The life of a knee: Melanie's story
I have sat on this for many years, not saying anything. But recently I have come to realise that my story could in fact help others. That coupled with the fact that I am a personal trainer and a massage therapist means that in fact, I could place myself as a knee treatment specialist. How so? Well, here is my story. 1997
I had just decided to start playing rugby. It was my first season. Back then, women's rugby teams were relatively rare, so there were not many other teams out there to play against and women's rugby team coaching was only in its infancy. Sufficed to say, there was a lot less skill than in the men's game. That said, I had been a rugby fanatic for years so I had some understanding of the game.
I was placed in the lock position (second row). Don't be under any illusion here – I was very new to this, built like a lock, but not through strength. I was unfit and overweight and this was the first game of my second season trying to play rugby. The scrum was having some trouble nailing the skills needed to make it solid. I could at this point lay blame in all sorts of places for what happened next but that will not get me anywhere. But, I had warned the coach that someone could get injured due to the poor technique. Sadly, that someone turned out to be me. The other girl in the lock position for our team collapsed during a scrum down. The scrum caved in sideways as she still had hold of my waistband and took me over with her. The entire force of the opposition continued to drive forwards and landed on the side of my knee. My cruciate ligament snapped like a twig. I heard a loud crack, like a branch snapping.
I wondered if it was my leg. I stood up, it seemed OK, I tested it out, it seemed ok. However, when I ran, each time I changed direction I collapsed on the floor, and in the next scrum, I was just completely unable to push. I was forced to retire from the game. That was the last game of rugby that I would ever play. The rupture went undetected for a further 8 months. This is the 90'2 after all. I would like to think that wouldn't happen in this day and age. 6 months later, an arthroscopy showed I had torn my cruciate ligament that day. No one believed me when I went to A&E saying there was something wrong, because it didn't swell and didn't hurt.
September 1999:
I had a full ACL reconstruction operation. Back then it was a major operation that involved 34 staples and a full leg brace for 3
months. Major muscle atrophy, which is why it is no longer managed like that, these days it's a key hole operation and the patient is back walking within days. In my operation, they replaced the torn ligament by using a graft from the quad muscle. It was held in place with two aluminium screws.
I remember being debilitated for weeks and weeks. When they took the brace off, I had to learn how to walk again. The recovery was horrendous. I was told I would never regain the feeling on the right side of the scar, and that the graft would be good for about 15 years before it may be susceptible to stretching. I got on with it, as you do, and became accustomed to my new limitations: for many years that knee was less stable as I tried to re-strengthen the muscles. I have never been able to kneel down since the operation, and sitting in restricted areas with no leg space becomes painful if I am unable to move regularly: i.e. planes. I have never regained the feeling on the right side of that knee, and I have a huge cartoon style scar like you don't see any more.
Fast Forward: 2016
I was out tramping in Piano Flat. As we were coming down the hill, my left foot slipped out from under me, I fell down, with the right foot ending up underneath me (and I snapped a walking pole in the process). This kicked off a whole new set of problems. It started giving way again and causing me intense pain. So much so that I feared I had ruptured the graft. I went to see someone – nope the ACL graft was still in place. but the problems continued.
2018
After a lot of investigation and a lot of waiting, I finally got to see an orthopaedic consultant recently. Not good. In fact worse that I might have ever anticipated. Here are the potential options ahead of me as I currently understand it.
1)
High tibial osteotomy:
This operation involves cutting a wedge out of your tibia (lower leg) and changing the angle of your leg to open up the gap in the knee joint. A metal bracket is put in place, which has to be removed 12 months post op. He doesn't think it's a suitable option for me. The tibial angle looks ok so this op would be over correction and cause more potential problems further down the line – and might not even alleviate my pain anyway.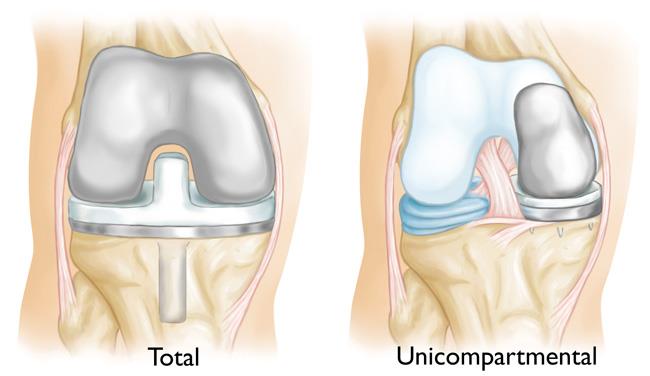 2) 
Uni-compartmental 
knee
 replacement:
 he doesn't think this will work either as this relies on a strong intact ACL and my graft is too loose, he thinks the 
knee
 replacement part would just tear up really fast.
3) 
Uni-compartmental 
knee
 replacement plus another ACL replacement:
 he says this is a potential option.. says his team have already discussed this at length. This consultant wasn't totally sure this was the right option and wanted a second opinion from someone who had more experience in performing uni-compartmental knee replacements.
4) Total knee replacement: he also wasn't sure this was the best option either, due to my age, etc. They have also discussed this at length too. Again, he wanted a second opinion.
 THE RESEARCH
As with everything, I get onto the internet and look up past medical research to see what the position is. I have found some medical research into unicompartmental knee replacements that have also had an ACL graft as well. Initially they show promising results, but there is nothing that I can find that looks at the long term prognosis post op for this option.
Full knee replacements wherever you look, are not ideal. All the medical resaerch says that the less bone you can disturb for longer, the better it is for the patient. Also, full knee replacements have a shelf life and need subsequent repeat replacements for the remainder of the patients life.
So when the consultant said this is the rest of my life we are talking about, he was absolutely right. No wonder he is hesitant, it is a tricky decision to make.
So, more waiting to see Mr Luecker and see what he has to say.
What now?
It has come to my attention recently that a LOT of people have joint issues and I actually have a number of clients that have come to me for that very reason. So I have decided to regularly write about my progress, along with how I manage the pain, keeping the joint moving and my fitness as best I can. hopefully my journey can inspire others to realise that all is not lost, you do in fact still have a life to lead.
I have found though, that I am extremely good at training clients with similar issues and also very effective at massaging clients who have similar issues. Why? Because I am there, I feel it, and I KNOW what they are going through.
Need a knee specialist personal trainer or massage therapist? Look no further!